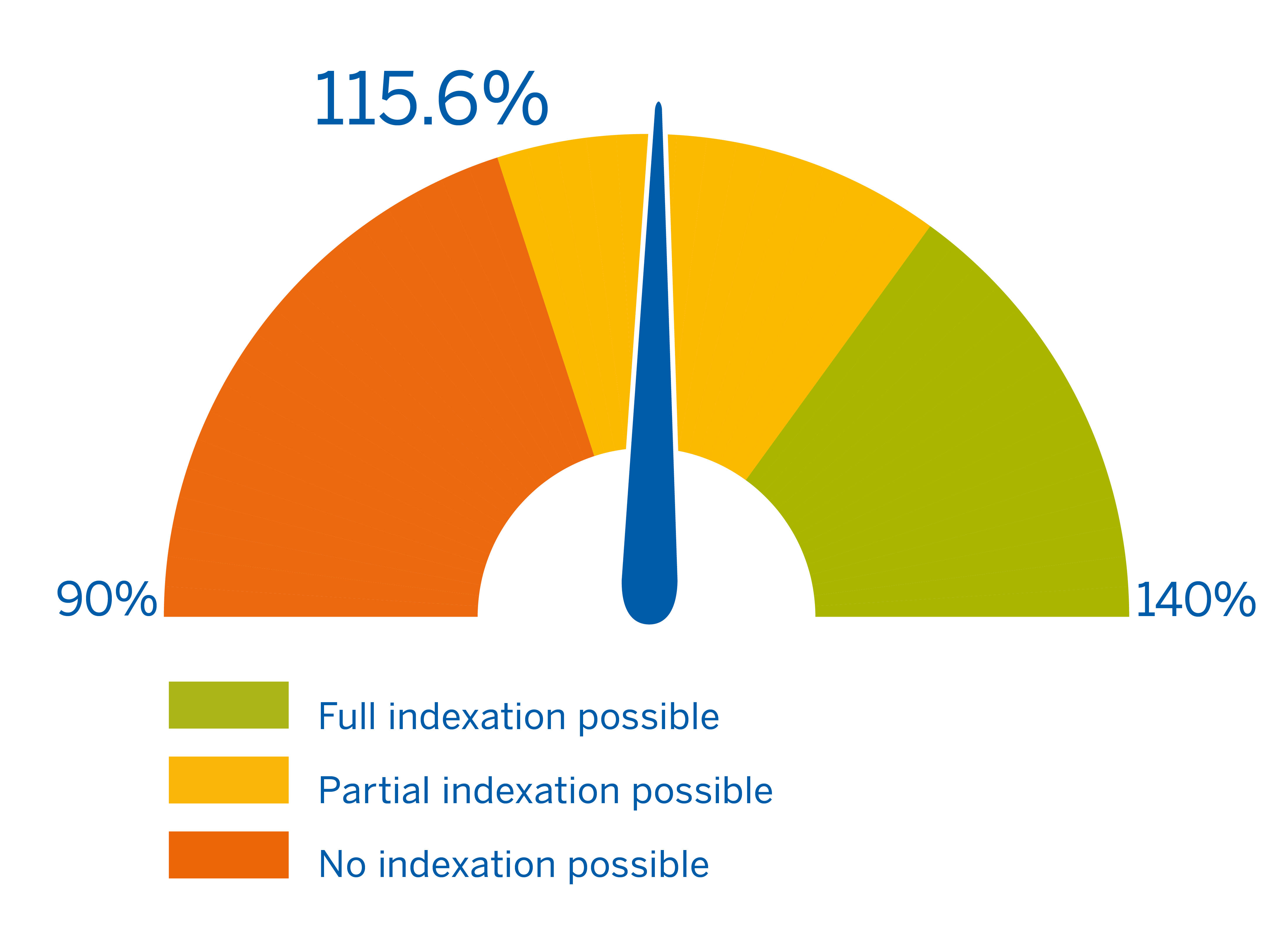 What is the position?
The policy funding ratio (the average funding ratio over the past 12 months) stood at 115.6% at the end of September 2021. The nominal funding ratio at the end of September 2021 was 118.7%. 
The mood on the stock markets was less positive than in previous months. Interest rates showed a slight increase last month which led to a decrease in liabilities. Due to the fall in the liabilities, the current coverage ratio at the end of September 2021 was higher than in the previous month. The pension fund's policy coverage ratio continued to rise in September.
Read more
How does this affect your pension?
In the short term, a low funding ratio has no implications for benefits and pension accrual. The Pension Fund has enough cash to be able to pay the pensions. 
We will decide at the end of the year whether we are able to increase the pensions next year, on the basis of the Fund's financial position at the end of September. The policy funding ratio at that time needs to be at least 110% to allow for full or partial indexation.
Read more
Funding ratio's
The funding ratio of a pension fund specifies the ratio between the assets and the liabilities, and is an indicator of the financial position of a pension fund.
Overview of the funding ratio
Frequently asked questions
What is the Board doing to counter the impact of coronavirus developments?

The outlook for the financial markets and interest rates is uncertain. By investing cautiously and with good diversification across various financial options such as equities, loans and real estate, as well as across various countries and regions, we have prepared ourselves for difficult circumstances. The Board is following developments closely and will make every effort to emerge from the crisis in the best possible shape. There is one single priority that matters: the future accrual and payment of your pensions.

How will my pension keep its value?

We strive to increase your pension each year in line with price inflation. This is known as indexation. This is only possible if the Fund's financial position is sufficient. The Pension Fund Board decides each year whether the pensions can be fully or partially indexed or that no indexation is possible on the basis of the Fund's financial position.

What funding ratio is necessary for full indexation?

A funding ratio of around 122% would give us adequate financial headroom to increase the pensions fully in line with the increase in wages and prices (indexation).